Good Night Swiss Stone Pine & Balsam Torchwood Body Oil
Cosmetics
•Made with nourishing Sweet Almond and Sunflower Seed Oils to intensely moisturize and repair the skin
•Swiss Stone Pine and Balsam Torchwood Essential Oils blend to create a balancing and comforting scent that lingers throughout the night promoting uninterrupted, peaceful sleep
•Free from Parabens, Phthalates, Silicones, Sulfates, Petrolatum, Paraffins, and Mineral Oils
•Vegan, Never Tested on Animals
•3.4 fl oz/ 100 ml
•Made in Germany by Kneipp – Experts in bath for over 130 years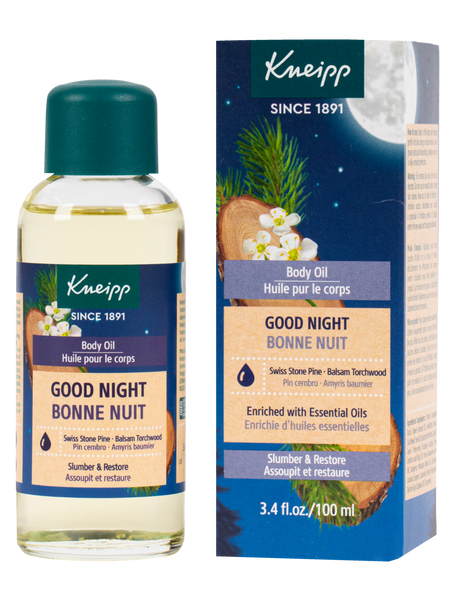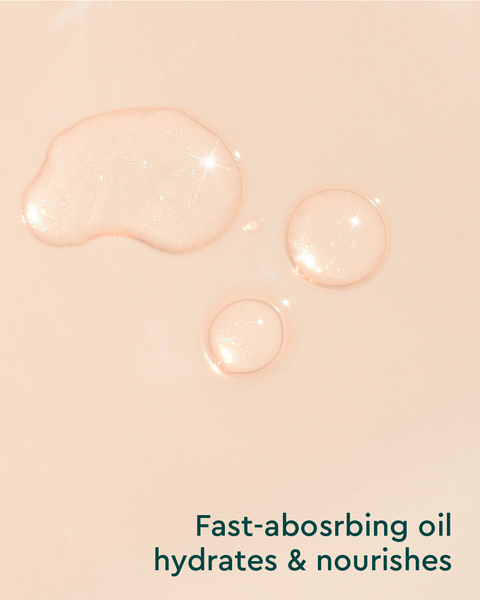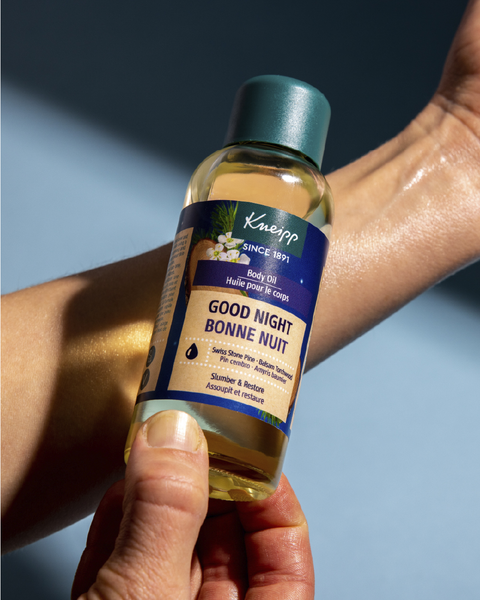 Good Night Swiss Stone Pine & Balsam Torchwood Body Oil
Cosmetics
•Made with nourishing Sweet Almond and Sunflower Seed Oils to intensely moisturize and repair the skin
•Swiss Stone Pine and Balsam Torchwood Essential Oils blend to create a balancing and comforting scent that lingers throughout the night promoting uninterrupted, peaceful sleep
•Free from Parabens, Phthalates, Silicones, Sulfates, Petrolatum, Paraffins, and Mineral Oils
•Vegan, Never Tested on Animals
•3.4 fl oz/ 100 ml
•Made in Germany by Kneipp – Experts in bath for over 130 years
Good Night Body Oil
A healthy sleep necessity, our skin nourishing, ultra-calming Good Night Body Oil is made with Swiss Stone Pine and Balsam Torchwood Essential Oils. The warm-woody scent helps create a comforting atmosphere for the mind, body, and spirit, while plant-based oils are clinically-proven to repair the skin overnight. Specially formulated to help you sleep soundly and awaken naturally restored, it's the perfect addition to your nightstand if you struggle to stay asleep. Try it after an evening soak in our Good Night Mineral Bath Salt or Bath Oil.
Body Oil

Specially crafted to restore moisture to even the driest skin, our body oils are made with powerful botanicals and rich, conditioning Vitamin E to deliver deeply soft and smooth skin. Our nourishing oils will absorb completely, but with a sheen lingering just enough to give you a healthy-looking glow. All Kneipp Body Oils are clinically-proven to:
Enhance and improve skin's moisture content, offering intensive, long-lasting hydration
Regulate moisture and replenish lipids to quickly repair skin's natural lipid barrier
Good Night Collection
Swiss Stone Pine has been used to promote healthy sleep for centuries and Balsam Torchwood, or Amyris, is well-known for its naturally soothing properties. Together, they calm and comfort the mind and body while improving the quality of sleep. 85% of users reported that the Good Night Body Oil helped their thoughts come to rest for better sleep and helped them wake up refreshed.
Prunus Amygdalus Dulcis (Sweet Almond) Oil, Helianthus Annuus (Sunflower) Seed Oil, Isopropyl Myristate, Caprylic/Capric Triglyceride, Tocopheryl Acetate, Pinus Cembra Leaf/Twig Oil, Amyris Balsamifera Bark Oil, Juniperus Mexicana Wood Oil, Limonene, Linalool, Eugenol, Coumarin, Parfum (Fragrance), Glycine Soja (Soybean) Oil, Tocopherol
Application Instructions
Apply a thin layer and massage gently into skin using a circular motion. Non-greasy and quick-absorbing, indulge your skin in silky-smooth perfection.
Important note
For external use only. Keep out of reach of children.