Muscle Soothing Juniper Bath Oil
Cosmetics
Made with invigorating Juniper and hydrating oils
Good for a boost of clarity and energy
Free from Parabens, Phthalates, Silicones, Petrolatum, Paraffins, and Mineral Oils
Vegan, Never Tested on Animals
Delivers up to 10 restorative baths
3.4 fl oz/ 100 ml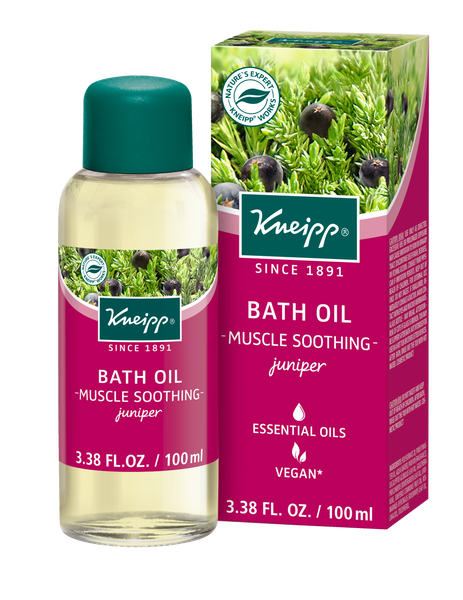 Muscle Soothing Juniper Bath Oil
Cosmetics
Made with invigorating Juniper and hydrating oils
Good for a boost of clarity and energy
Free from Parabens, Phthalates, Silicones, Petrolatum, Paraffins, and Mineral Oils
Vegan, Never Tested on Animals
Delivers up to 10 restorative baths
3.4 fl oz/ 100 ml
A refreshing blend of natural Juniper, Wintergreen and Rosemary essential oils create a cooling and soothing effect for your muscles and any body aches. With a distinct, crisp fragrance, Juniper helps stimulate the senses and invigorate the mind to deliver a boost of clarity and energy whenever fatigue hits. A perfect restorative ritual, the white water creates a haven for transformation. Pair with our Juniper Mineral Bath Salt Soak for powerful skin smoothing and softening benefits.
Bath Oils
Our highly-concentrated bath oils are made to transform your bath experience with just one capful. Offering a more potent dose of essential oils to provide an intensified aromatherapy experience, our hand-selected powerful botanicals are blended with colors to create a highly sensorial and truly therapeutic effect. Learn more about our color therapy.
Polysorbate 20, Pinus Pinaster Oil, Aqua (Water), Parfum (Fragrance), Eucalyptus Globulus Leaf Oil, Gaultheria Procumbens (Wintergreen) Leaf Oil, Limonene, Juniperus Communis Fruit Oil, Rosmarinus Officinalis (Rosemary) Leaf Oil, Linalool, Tocopherol.
Application Instructions
Pour one capful of bath oil under warm, running water. Enjoy a soak for 15-20 minutes, and emerge restored.
Important note
Keep out of reach of children. Guard against slipping in bathtub.