Forest Ritual Pine & Fir Mineral Bath Salt
Cosmetics
Packed with refreshing Pine and Siberian Fir extracts
Good for a relaxing soak, any time of day
Free from Parabens, Phthalates, Silicones, Petrolatum, Paraffins, and Mineral Oils
Vegan, Never Tested on Animals
Delivers up to 10 restorative baths
17.6 oz (1.1 lb)/ 500 g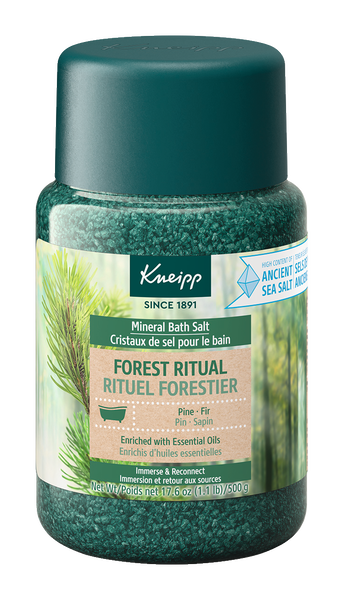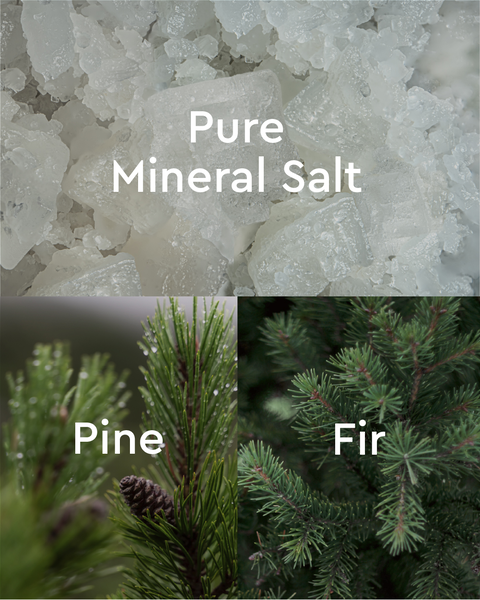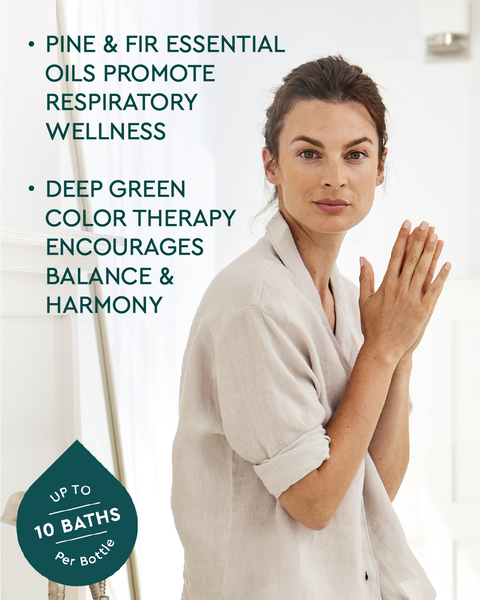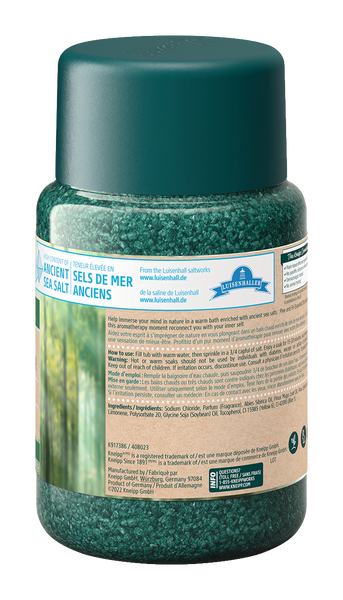 Forest Ritual Pine & Fir Mineral Bath Salt
Cosmetics
Packed with refreshing Pine and Siberian Fir extracts
Good for a relaxing soak, any time of day
Free from Parabens, Phthalates, Silicones, Petrolatum, Paraffins, and Mineral Oils
Vegan, Never Tested on Animals
Delivers up to 10 restorative baths
17.6 oz (1.1 lb)/ 500 g
Whether you reside in a concrete jungle or a sleepy suburb, Kneipp Deep Breathe Mineral Bath Salt will transport you to a serene northern forest on a crisp morning. The unique crystalline structure of the thermal spring salt naturally absorbs more of the invigorating Pine and Fir essential oils.
Sprinkle one capful of this gorgeous deep green salt under warm running water to transform your tub into a mountain oasis for the duration of your bath. Lay back, close your eyes, and reintroduce yourself to the wonders of nature. Step out of the tub feeling refreshed and ready to take a much-needed deep breath.
Kneipp Mineral Bath Salts
Our mineral bath salts are made with hand-processed, all-natural thermal spring salt sourced from a 250-million-year-old ocean hidden 1500 feet below the earth's surface. This ancient thermal brine is completely uncontaminated by pollutants and environmental stressors. Exclusively sourced and packed with trace elements and minerals such as magnesium, calcium, and zinc, our salts work to benefit and intensely smooth your skin.
Learn more about our salt story.
Sodium Chloride, Abies Sibirica Oil, Pinus Mugo Leaf Oil, Pinus Sylvestris Leaf Oil, Abies Alba Leaf Oil, Pinus Pinaster Oil, Limonene, Parfum (Fragrance), Polysorbate 20, Tocopherol, Ci 15985 (Yellow 6), Ci 42090 (Blue 1).
Application Instructions
Fill tub with warm water, then sprinkle in a 3/4 capful of salt. Enjoy a soak for 15-20 minutes, and emerge restored.
Important note
Hot or warm soaks should not be used by individuals with diabetes, except on advice of physician. For external use only. Do not ingest. Use only as directed. Keep out of reach of children. If irritation occurs, discontinue use. Consult a physician if irritation persists. If product enters the eye, wash out thoroughly with water.