Goodbye Stress Rosemary & Water Mint Aromatherapy Mineral Bath Salt Mini
Cosmetics
Made with herbaceous Rosemary and Water Mint and pure mineral salt

Good for a de-stressing soak
Free from Parabens, Phthalates, Silicones, Petrolatum, Paraffins, and Mineral Oils
Vegan, Never Tested on Animals
Delivers 1 restorative bath, ideal for trial and travel
2.1 oz/ 60 g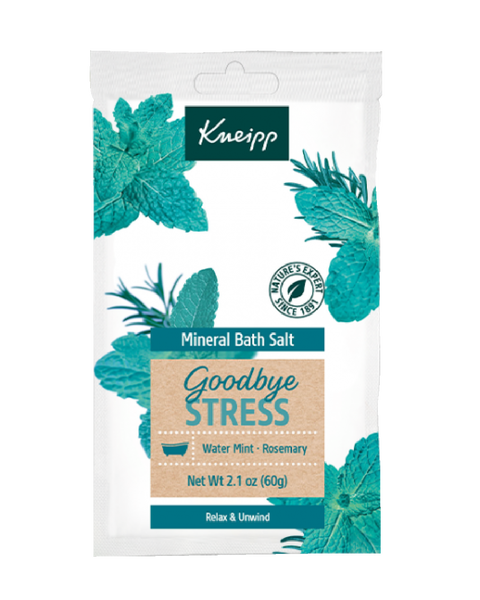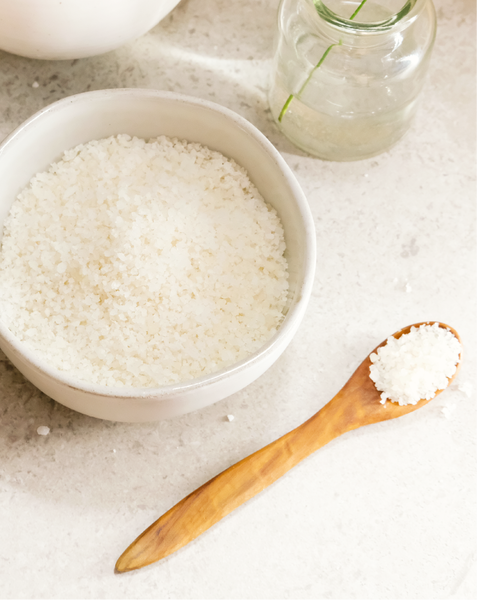 Goodbye Stress Rosemary & Water Mint Aromatherapy Mineral Bath Salt Mini
Cosmetics
Made with herbaceous Rosemary and Water Mint and pure mineral salt

Good for a de-stressing soak
Free from Parabens, Phthalates, Silicones, Petrolatum, Paraffins, and Mineral Oils
Vegan, Never Tested on Animals
Delivers 1 restorative bath, ideal for trial and travel
2.1 oz/ 60 g
Made with subtly sweet Orange peel oil and an herbaceous blend of Rosemary, Mint, Eucalyptus and Camphor essential oils, these luxuriously refreshing, our bath salts create an indulgent aromatherapy experience that helps clear the mind, quiets overactive thoughts, and leaves you feeling refreshed and renewed with positive energy. Try adding a capful of our Goodbye Stress Bath Oil to add the benefits of color therapy and an intensified aromatherapy experience.
87.5% to 95.8% of women showed a decrease in the psychophysiological signs of stress*
79.2% felt their mood was enhanced
70.8% felt enhanced relaxation
*Decrease of EEG-High-Beta activity in the brain in 87.5% of subjects; Decrease of ECG activity (heart rate) in 100.0% of subjects; Decrease of EDA activity of the skin in 95.8% of subjects.
Kneipp Mineral Bath Salts
Our mineral bath salts are made with hand-processed, all-natural thermal spring salt sourced from a 250-million-year-old ocean hidden 1500 feet below the earth's surface. This ancient thermal brine is completely uncontaminated by pollutants and environmental stressors. Exclusively sourced and packed with trace elements and minerals such as magnesium, calcium, and zinc, our salts work to benefit and intensely smooth your skin. Learn more about our salt story.
Sodium Chloride, Mentha Aquatica Flower/Leaf/Stem Extract, Rosmarinus Officinalis (Rosemary) Leaf Oil, Mentha Piperita (Peppermint) Oil, Citrus Aurantium Dulcis (Orange) Peel Oil, Eucalyptus Globulus Leaf Oil, Camphor, Simmondsia Chinensis (Jojoba) Seed Oil, Linalool, Geraniol, Limonene, Benzyl Alcohol, Alpha-Isomethyl Ionone, Parfum (Fragrance), Polysorbate 20, Glycerin, Aqua (Water), Glycine Soja (Soybean) Oil, Tocopherol.
Application Instructions
Fill tub with warm water, then sprinkle in entire contents of sachet. Enjoy a soak for 15-20 minutes, and emerge restored.
Important note
Hot or warm soaks should not be used by individuals with diabetes, except on advice of physician. For external use only. Do not ingest. Use only as directed. Keep out of reach of children. If irritation occurs, discontinue use. Consult a physician if irritation persists. If product enters the eye, wash out thoroughly with water.