Refreshing Eucalyptus Mineral Bath Salt Mini
Cosmetics
Made with refreshing Eucalyptus and pure mineral salt
Good for respiratory wellness
Free from Parabens, Phthalates, Silicones, Petrolatum, Paraffins, and Mineral Oils
Vegan, Never Tested on Animals
Delivers 1 restorative bath, ideal for trial and travel
2.1 oz/ 60 g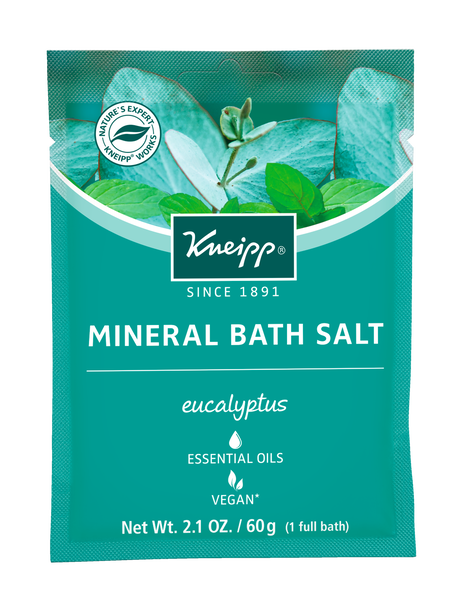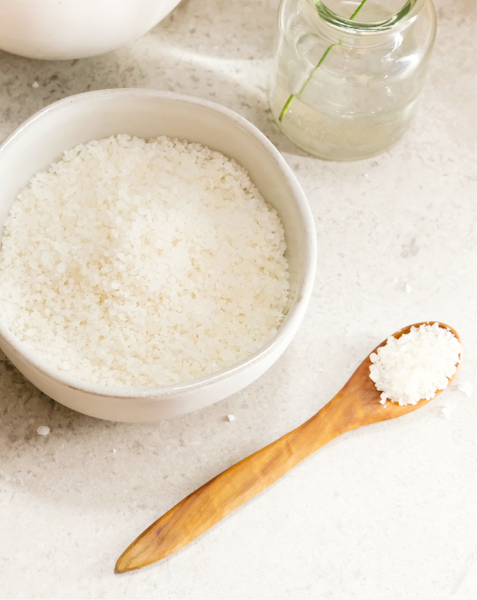 Refreshing Eucalyptus Mineral Bath Salt Mini
Cosmetics
Made with refreshing Eucalyptus and pure mineral salt
Good for respiratory wellness
Free from Parabens, Phthalates, Silicones, Petrolatum, Paraffins, and Mineral Oils
Vegan, Never Tested on Animals
Delivers 1 restorative bath, ideal for trial and travel
2.1 oz/ 60 g
With a high concentration of pure Eucalyptus essential oil, this mineral bath salt makes the perfect antidote to feeling under the weather. Known for its soothing respiratory properties, the crisp scent of Eucalyptus helps clear the mind and revive the body, so you'll feel better with every soak. Pair with our Eucalyptus or Lavender Bath Oil to add the benefits of color therapy and an intensified aromatherapy experience.
Kneipp Mineral Bath Salts
Our mineral bath salts are made with hand-processed, all-natural thermal spring salt sourced from a 250-million-year-old ocean hidden 1500 feet below the earth's surface. This ancient thermal brine is completely uncontaminated by pollutants and environmental stressors. Exclusively sourced and packed with trace elements and minerals such as magnesium, calcium, and zinc, our salts work to benefit and intensely smooth your skin. Learn more about our salt story.
Eucalyptus
Our Eucalyptus oil is pulled directly from the fresh leaves of the Eucalyptus tree, used for its naturally stimulating effects. Known for its soothing properties, the crisp, botanical scent of Eucalyptus helps clear the mind and promote rejuvenation, especially during cold seasons or when feeling under-the-weather.
Sodium Chloride, Eucalyptus Globulus Leaf Oil, Sodium Methyl Oleoyl Taurate, Sodium Carbonate, Polysorbate 20, Limonene.
Application Instructions
Fill tub with warm water, then sprinkle in entire contents of sachet. Enjoy a soak for 15-20 minutes, and emerge restored.
Important note
Hot or warm soaks should not be used by individuals with diabetes, except on advice of physician. For external use only. Do not ingest. Use only as directed. Keep out of reach of children. If irritation occurs, discontinue use. Consult a physician if irritation persists. If product enters the eye, wash out thoroughly with water.