Relaxing Lavender Bath Oil
Cosmetics
Made with calming Lavender and hydrating oils
Good for relaxation any time of day
Free from Parabens, Phthalates, Silicones, Petrolatum, Paraffins, and Mineral Oils
Vegan, Never Tested on Animals
Delivers up to 10 restorative baths
3.4 fl oz/ 100 ml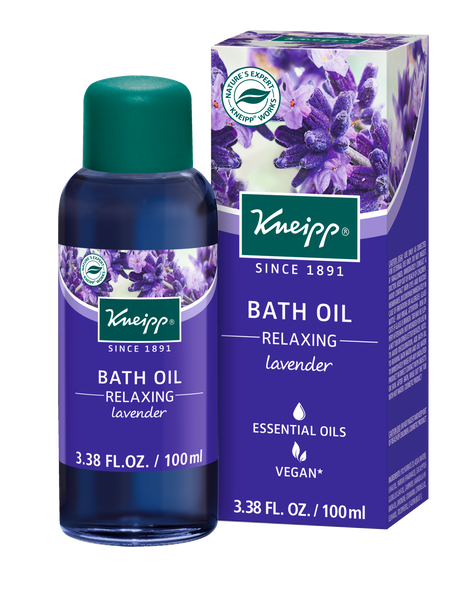 Relaxing Lavender Bath Oil
Cosmetics
Made with calming Lavender and hydrating oils
Good for relaxation any time of day
Free from Parabens, Phthalates, Silicones, Petrolatum, Paraffins, and Mineral Oils
Vegan, Never Tested on Animals
Delivers up to 10 restorative baths
3.4 fl oz/ 100 ml
With an ultra-efficacious blend of highly concentrated Lavender, Eucalyptus and Camphor, this therapeutic bath oil is made to calm the mind for peaceful balance. The familiar floral fragrance of pure lavender blended with the therapeutic blue water engages more of your senses to transform your home into a sanctuary for easing restlessness and offering you the ultimate in evening relaxation. Mix with Kneipp's Relaxing Lavender Mineral Bath Salt Soak for powerful skin smoothing and softening benefits.
Bath Oils
Our highly-concentrated bath oils are made to transform your bath experience with just one capful. Offering a more potent dose of essential oils to provide an intensified aromatherapy experience, our hand-selected powerful botanicals are blended with colors to create a highly sensorial and truly therapeutic effect. Learn more about our color therapy.
Lavender
The name "Lavender" is derived from the latin word for "to wash," because it was so often added to baths for its calming and purifying qualities. Here at Kneipp, Lavender is one of our signature scents because of its ability to transport the mind for much-needed moments of tranquility.
Polysorbate 20, Aqua (Water), Linalool, Parfum (Fragrance), Eucalyptus Globulus Leaf Oil, Camphor, Lavandula Hybrida Oil, Limonene, Coumarin, Citronellol, Geraniol, Tocopherol, C 3.38 Fl. Oz. / 100 Ml I 42090 (Blue 1).
Application Instructions
Pour one capful of bath oil under warm, running water. Enjoy a soak for 15-20 minutes, and emerge restored.
Important note
Keep out of reach of children. Guard against slipping in bathtub.